PROGRAMMING + pARTNERSHIPS
Whether creating a lecture series as a Group Training Manager at Microsoft, launching new design curriculum, or teaching design skills to inner-city Philadelphia grade-schoolers, Robin looks for unique projects and partnerships to successfully engage people in creative learning. She works with organizations and businesses to collaborate on project-based creative initiatives and educational programming.
cornish college of the arts
Assistant Professor Design. As a member of the core faculty teaching sophomore, junior, and senior Design students, Robin was hired to create curriculum with a focus on design thinking and the intersection of user experience and design research.
Created and manged the following corporate collaborations:
Microsoft + Cornish: Through the HoloLens
The challenge: Leverage the creative, problem-solving disposition of multi-disciplinary creative artists, and encourage them to explore the artistic possibilities of mixed reality with the HoloLens. Learn more...
Amazon Gen Z
Create a new social shopping experience where younger generation customers can discover, share products through social media, and buy online. Learn more...
yaWENTO
A team of 11 Junior UX designers assisted yaWento's CEO in the creation of a rich user experience for an travel app that would allow user to share their travel moments. Learn more...
Cornish/Mirabella/Amazon Aging + Independence. This project explored Alternative Attitudes to Aging, a cross-discipline project involving engagement with Amazon, Cornish and the Mirabella communities-at-large. Included one all-day session exploring the "developmental aging" mindset which celebrates aging as a fundamental part of the human experience (in contrast to the "declinist" mindset that views aging as a series of problems. Students also engaged with Amazon design leaders to charrette design solutions in an additional one-day exploration.
NYTEC + The Self-driving Car. Over a five-week period the NYTEC designers worked with 10 design students to generate a variety of demographic-specific features to be included in a prototype for a self-driving vehicle.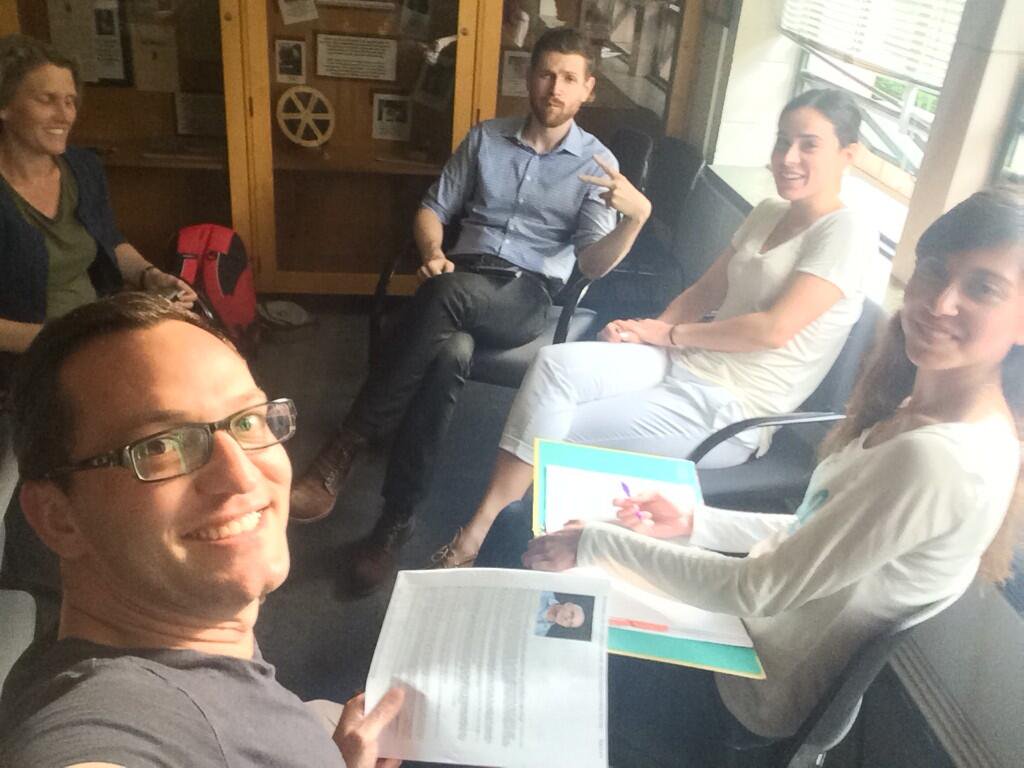 University of Washington
Adjunct Faculty. Taught "Visual Culture" in the Communication Leadership graduate program in the Department of Communication at the University of Washington.
OTHER UW TEACHING:
Undergraduate Design Bootcamp. A one-day workshop giving undergraduate students an overview of key design principles and how to effectively utilize visual elements.

Digital Content + Media. Through the UW Continuing + Professional Education program, a course designed to teach a basic framework for digital media creation, social media distribution and marketing.

Graduate Teaching Assistant MHCI+D.
A graduate program that brings together design, technology, and the study of human behavior.

UNIVERSITY OF MICHIGAN
Knight-Wallace Journalism Fellowship. One of fourteen fellows, chosen from a national candidate pool of several hundred professional journalists, who received a generous grant to participate in a nine-month, post-graduate program awarded for outstanding achievement in journalism.
Other education experience
Peninsula School District Career, College, and Life Readiness General Advisory Team. Partners in industry, education, and the community working together to prepare students for life after high school.
Peninsula School District Emerging Technologies Advisory Council. Partners in industry, education, and the community working together to help students be successful in computer science.
MCDM UW Task Force. Asked to participate as member of a Task Force of students, alumni, advisers and faculty to explore the expansion of the UW MCDM programming.
Microsoft Design Training Manager. During Avni's eight years at Microsoft she was fortunate to catch the wave of a new era in design; one that would profoundly change the course of the design profession as new technologies changed methods of communication, content, and interaction design. During her time there she was a lead advocate for design within the product groups, helping to elevate the career path for designers by working cross-company with Design Managers to write and implement the first Design Career Ladders, provide company-wide design educational programming through MSTE (Microsoft Technical Education), including the first Design Day.
Robin has served on a variety of committees, educational programming boards, including:
The Knight Curriculum Advisory Committee. at the Indiana University Media School , where she received her BA in journalism and design. Advised University faculty and staff on development of new interactive media curriculum.
The Seattle Times Urban Journalism Workshop. Instructor/lecturer at the two-week training program for minority high school students pursuing design and photography careers.
The Philadelphia Inquirer. NIE (Newspaper in the Classroom) was a design and writing program created for inner-city grade-schools.